About The Small Business Service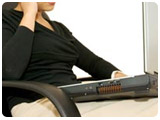 The Small Business Service was setup to service the needs of small firms in Northern Ireland. We realise that many firms do not require specialised Accounting, IT or HR staff. This teamed with knowledge of the high fees that specialist consultancy firms charge, spurred us to create a company that will combine all the functions needed in any modern business and offer that service at an affordable price. We at The Small Business Service see ourselves as the complete administration tool for any small firm.
The Management Team

"Patrina, Chartered Accountant and Managing Director.
She is a management accountant who has worked in many industry sectors including construction, manufacturing and services. She holds a degree in Accounting from Queens and is a fully qualified CIMA (Chartered Institute of Management Accountants) Accountant. Her experience ranges from working with self employed business people to large multinational corporations"

"Sean, Chief IT Consultant.
He is a software professional who has been a freelance IT contractor for many years in America, Australia, Ireland, Spain and the UK. He has a wealth of experience in both Microsoft and Java technologies and has been involved in many internet and intranet web solutions. He holds a Masters and a Bachelors Degree in Electrical and Electronic Engineering, both from Queens University, Belfast."